Issued By: CASAT and NFARtec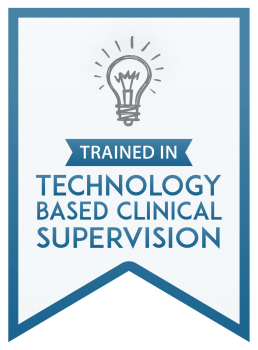 About this Badge
The Technology-Based Clinical Supervision (TBCS) badge signifies that the TBCS participant has voluntarily met the competency standards associated with this online enhanced professional learning series. They are competent in skills essential to using technology to conduct clinical supervision in behavioral health settings.
Demonstrated Skills and Knowledge
Initial set-up of TBCS Sessions
Using and troubleshooting technology (videoconferencing equipment)
Elements of Technology-Based Clinical Supervision
TBCS Ethical and Legal Issues
Digital Culture and Cultural Competence
Role of technology in conducting clinical supervision
Technology-based clinical supervision and application in practice
Conducting technology-based clinical supervision
Therapeutic alliance via technology
Legal and jurisdictional implications for conducting technology-based clinical supervision
Completion Criteria
Attend 80% of the 21-hour curriculum during the 9-weeks of training (1.5 hours weekly) and complete ONE hour of weekly learning activities.
Came prepared, actively engaged, and on camera at least 90% of the scheduled series time.
Demonstrated proficient use of technology to offer individual and group clinical supervision via skills-based group presentations based on case scenarios that require incorporating the use of videoconferencing technology.
Disclaimer: This badge does not mean the holder is certified, licensed, or trained as a clinical supervisor.
This badge is a collaborative project of the Center for the Application of Substance Abuse Technologies (CASAT), the National Frontier and Rural Telehealth Education Center (NFARtec).
Please click below to download a list of individuals that have earned this badge.