CASAT Training provides a selection of in-person workshops, webinars and online-study materials to accommodate busy schedules.
Funding for CASAT coordinated workshops was provided in whole or in part by the Nevada Division of Public and Behavioral Health and the Substance Abuse Prevention and Treatment Agency (SAPTA) through the Substance Abuse Prevention and Treatment (SAPT) Block Grant from the Department of Health and Human Services (DHHS) and Substance Abuse and Mental Health Services Administration (SAMHSA). Its contents are solely the responsibility of the authors and do not necessarily represent the official views of the U.S. DHHS, SAMHSA, or the State of Nevada.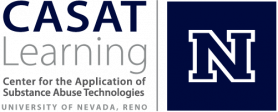 CASAT Learning: Continuing Education and Professional Development for Behavioral Health Professionals
CASAT Learning is our brand new registration platform where you can access self-paced online trainings, as well as register for live online webinars and in-person courses. Beginning Fall 2021 all course registration will be found here. Until then, you can access our current list of courses:0
Self-Paced
Peer Support Specialist 101
Technology-Based Interventions: Exploring New Models of Care and Navigating New Ethical Dilemmas
Principles of Detoxification: Withdrawal Management
Problem Gambling Intern Readiness
Live Events
July 21, 2021 – At the Intersection of Guns and Mental Health : The Intermediate

CASAT Training
CASAT Training continues to host a catalog of online video courses for behavioral health providers on topics such as ethics, suicide prevention, HIPAA, and much more.
Continuing Education Units
Courses are approved by the following professional associations for CEUs unless otherwise noted in the course description:
National
National Association of Alcohol & Drug Abuse Counselors (NAADAC)
National Board for Certified Counselors (NBCC)*
International Certification & Reciprocity Consortium (IC&RC)
CASAT has been approved by NBCC as an Approved Continuing Education Provider, ACEP No. 6492. Programs that do not qualify for NBCC credit are clearly identified. CASAT is solely responsible for all aspects of the programs.
Nevada
Nevada Board of Examiners for Alcohol, Drug, & Gambling Counselors
Nevada State Board of Nursing
Board of Examiners for Marriage and Family Therapists and Clinical Professional Counselors
State of Nevada Board of Examiners for Social Workers
Contact Us
For questions regarding CASAT Training courses please contact us by emailing CASAT Training at training@casat.org or call (866) 617-2818.
Call for Presenters
Interested in presenting for CASAT? Please complete the form below to submit your interest and someone will be in touch with you shortly.