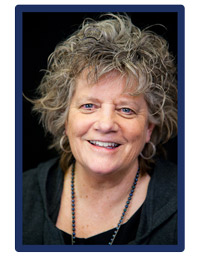 Community Partner of Northern Nevada
Executive Director | Center for the Application of Substance Abuse Technologies
From the beginning of her career, Nancy Roget has sought to help those struggling with substance abuse problems. She started as a direct care provider for patients until her talents led her in to administrative roles. She has served as both an instructor at the University of Nevada, Reno (UNR) and a trainer for the State of Nevada. Nancy began working with the Center for the Application of Substance Abuse Technology (CASAT) as co-director and was named executive director in 2006. At the center, she continued to develop effective academic programs, prevention services, continuing education programs, outreach and innovation projects.
With Nancy's innovative leadership, CASAT has developed into a multi-million dollar, grant-funded center that remains invaluable to UNR and the Northern Nevada community. While the results of her work is impressive, it is Nancy's personal qualities that speak to her commitment to the community. When a group of students sought to provide services at the student-run outreach clinic for substance use issues, Nancy took it upon herself and CASAT to facilitate and support their endeavors. She assisted their program development, supplied materials and gave the students and patients a unique opportunity to help others.
Nancy is persistent in her mission to improve healthcare and healthcare education to better serve those in need. She challenges her colleagues and students to settle for nothing less than excellence while also being a compassionate and generous resource for others. Her problem solving, opportunism and ability to inspire others makes her an invaluable partner to the Reno community.