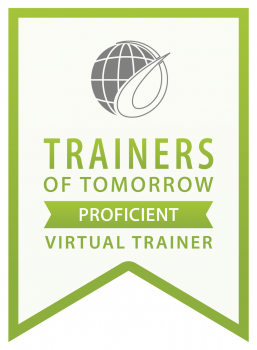 Issued By: CASAT and NFARtec
The Trainers of Tomorrow Digital Badge signifies that the badge-holder has met the competency standards associated with this online training and intensive technical assistance series. This Digital Badge utilizes a blend of adult learning-based classroom instruction, intensive technical assistance (ITA) observation, and enhancement feedback. Badge-holders are proficient in skills essential to using technology to translate in-person training methods into effective digital engagement and facilitation strategies, and ultimately integrating these skills and practices into virtual learning environments.
Demonstrated Skills and Knowledge
The Trainers of Tomorrow Capacity Assessment for this Digital Badge evaluates the training participant's skills and knowledge in seven key areas:
Background Lighting and Sound
Computer Platform Use
Adult Learner Engagement
Lesson Organization, Engagement, and Flow
Comportment
Appearance
Overall Effectiveness
A full description of the competencies can be found here; Trainers of Tomorrow Capacity Assessment
Attended the 16.5-hour curriculum during the 7-weeks of training (1.5 hours weekly) and complete 1-hour skills-based weekly learning activities.
Attended sessions prepared, actively engaged, and on camera 90% of the scheduled time.
Passed the Trainers of Tomorrow Capacity Assessment criteria with a "Skilled" or better
Conducted one 3-minute solo presentation using video-platform technologies only
Participated in a live practice labs to include: co-leading a virtual classroom settings and practiced effective feedback to cohort in a virtual classroom.
Please Note: This badge does not mean the holder is certified, licensed, or trained as a facilitator in a specialty topic(s)