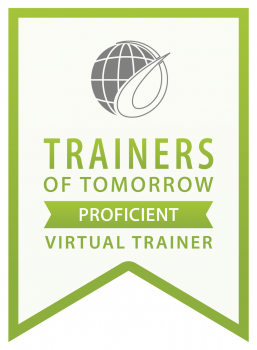 Place your badge in all your professional emails! Below are instructions on how to place your badge in your email signature line. Your badge will link out to a description of your achievement and every time you send an email, your colleagues will be reminded of your achievement!
Instructions for Gmail Users
For Gmail follow these steps;
Right click on the image of your badge above. Choose "Copy image address" from the dropdown.
Log into your Gmail account and click the settings icon in the top right-hand corner, (shaped like a gear,) then click "Settings" from the drop down.
Under the "General" tab scroll down to "Signature."
Click your cursor where you would like your badge to show.
Click the "Insert Image" icon, (a box with mountains,) and under the "Web Address (URL)" tab, paste the image address. Your image should be displayed below. Choose "Select".
The image will appear in your signature line. Click the image and choose "Medium" to resize it.
Highlight the badge image with your cursor and click the "Link" icon, (set of chain links.)
Select and copy this badge page URL:  https://casat.org/badges/
Return to Gmail and paste under "To what URL should this link go?" click "Ok"
Scroll to the bottom of the page and click "Save Changes"
Instructions for Outlook Users
For Outlook follow these steps;
Right click on the image of your badge above. Choose "Copy Image".
In Outlook, open a new message and under the "Message" tab click "Signature" and "Edit Signatures"
Add a new signature by clicking on the plus sign in the bottom left corner. Then edit your signature in the box labelled "Signature" on the right.
To insert your badge, right click where you would like it to appear and then choose "Paste". Resize image as desired.
Make sure the badge image is selected and then right click on it. Choose "Hyperlink".
Paste the below address into the address bar and click "Ok"
https://casat.org/badges/
You may also need to change the settings under "Choose default signature:" to make sure your new signature is the default.
Click the red "x" to exit and save your signature.